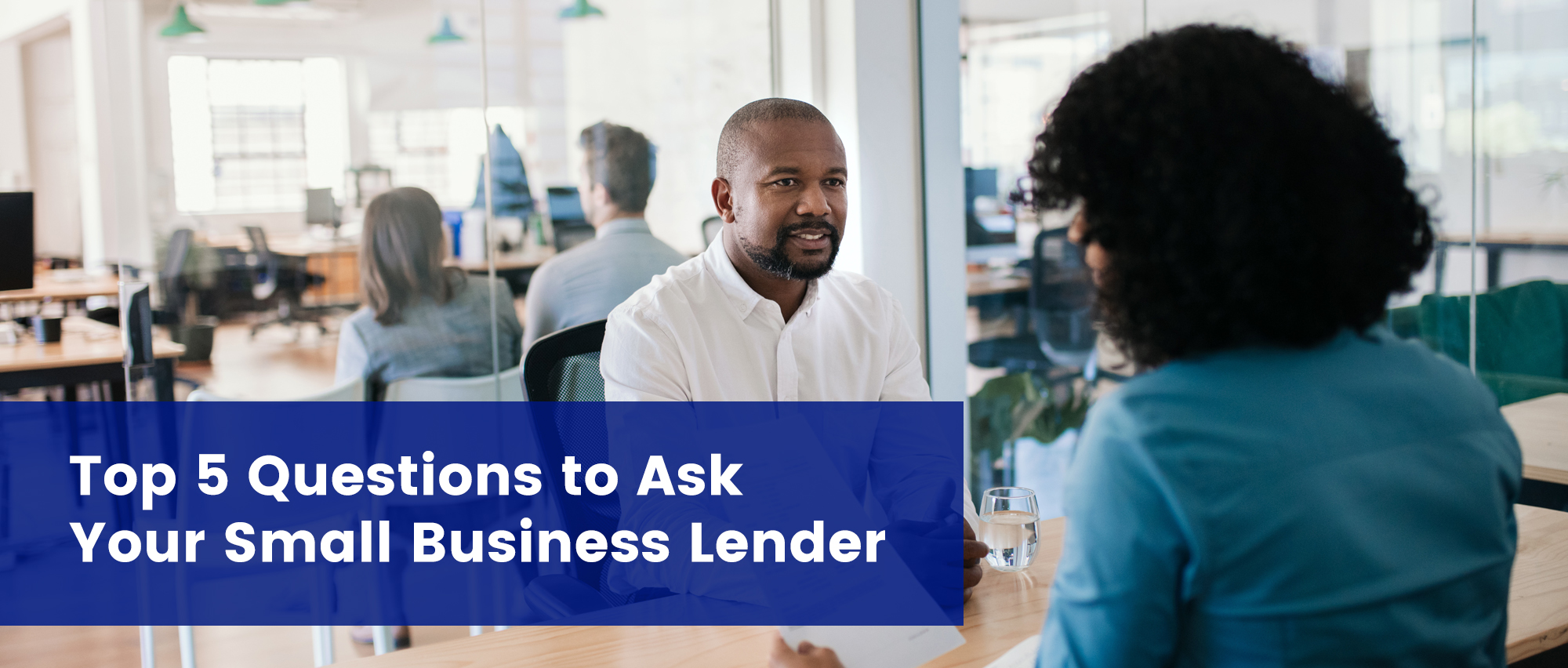 Whether you're applying for your first business loan or you've been through the process several times before, asking the right questions before moving forward can save you significant time and money.

Business lenders expect questions from business owners interested in working with them and help them to determine whether or not you're serious about applying. It's also important for you to become familiar with your lender, whether or not you feel that the bank can support your business needs, and if they have experience working with businesses like yours.

When you're looking for a Fox Valley business loan, we want to ensure that you're prepared with the questions that you need answers to. Take a look at the top five questions we recommend asking your small business lender.
Does the bank have experience working with small businesses?
While most banks offer a standard suite of services, some will specialize in certain areas over others. If you can, find a lender whose primary audience is small business owners. Not only will you be able to benefit from services specifically designed for your needs, you'll also be working with experienced professionals who can offer you the right loan based on their expertise.

With so many options to choose from, trying to muddle through the ins and outs of business lending in the Fox Valley on your own will take up significant amounts of your time. That's time you could be spending on building your business, networking with potential customers, or working on your marketing plan.

Especially when you've never taken out a business loan before, it's worth investing in a trustworthy lender who can guide you through each step and help to alleviate any potential headaches before they arise.
Has the lender worked with similar businesses?


Not only do you want to find a bank who has worked with other small businesses, you want to find one that's at least somewhat familiar with the industry that you're going to be operating in. After all, a contractor, manufacturer or building company will have very different needs to a restauranter or a retail store owner.

Lenders who have worked with similar businesses will be able to better advise you when it comes to loan options and any potential operating problems on the horizon, which can be especially useful for first-time business owners.
Ask your potential lender if they're currently working with, or have worked recently with, businesses that operate in a similar way to yours and within the same industry. If they haven't, it may be best to move on to a different option.
What other business services does the bank provide?


There are so many parts to running a small business and taking out a loan to cover some of your expenses is only one piece of the puzzle. That's why having all of your business finances under one roof can help you to stay organized and on top of everything.

Ask your lender about other business services they offer, from day-to-day business checking to business certificates of deposit or business credit cards. Even if you're not currently in a position to make use of every service, knowing that the bank offers them makes the decision easy if or when you're ready for those benefits.

Working with a lender like BLC Community Bank allows you to start building a relationship with our business team, who can assist you with other services like opening a checking account, paying your vendor bills, or setting up a business line of credit. Our Treasury Management services help you to streamline your business needs beyond a Fox Valley commercial loan so that you can have better control over your company's cash flow.
How long does the loan process take?


We love to support our customers as they launch their businesses, but it's important that you head into the process with an understanding of the loan timeline. Business loans in the Fox Valley typically may take anywhere from a few weeks to several months, depending on the lender, the type of business loan you're applying for, and how well you fit the approval criteria.

Knowing how long the application and approval process takes will allow you to better plan in other areas of your business. Depending on what you intend to use the loan funds for, you may need to put building plans on hold or wait to restock a significant amount of inventory until your lender lets you know that you've been approved.

Before going into the loan process, meet with your lender to discuss specific eligibility requirements and what you can do to strengthen your application. This insider knowledge can cut down on your waiting times if you're able to demonstrate that you go above and beyond the requirements for a loan.
What support will I have over time as my business needs change?


As with most areas of life, your situation one or two years from now may not look the same as it does today. You want your business to grow and succeed, so it's important to find a lender who can grow with you.

Approach the lending process with an open mind and a partnership mentality, rather than simply seeing this as a one-time transaction. Working with a community bank is the perfect combination of practical lending assistance and long-term local support. We care deeply about the businesses in our communities and are invested in your success.

Asking questions about the future may feel premature when you're still at the beginning of your business journey, but knowing what's possible will help you to start off on the right foot with your lender. If you choose to stay with the same bank as your business grows, having that partnership from day one will give your lender the best possible insight into how your business operates, letting them tailor their advice specifically for your needs.
Grow your business in the Fox Valley
If you're ready to take the next step in your business, contact the business lending team at BLC Community Bank today. We live and work in the same communities as you do, so we're excited to see your business thrive in the local area!

Get in touch with one of our experienced commercial lenders today at (920) 788-4141 to start the business loan application process or Contact Us to find out more about our business and commercial lending options.